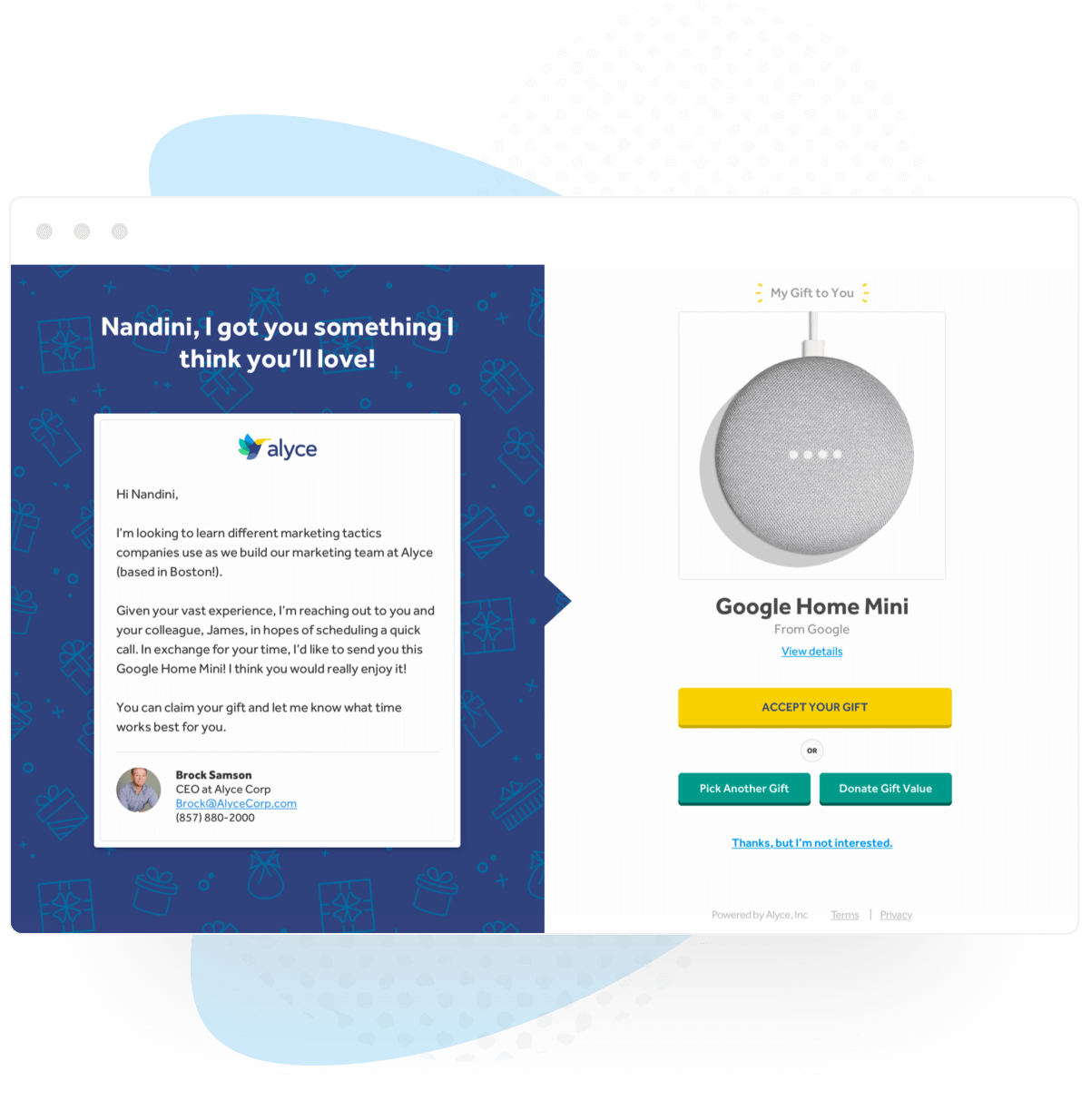 At Alyce, we love to drink our own champagne. Or eat our own dog food. Whichever phrase you prefer. By that I mean, we use our personal gifting marketing strategy and platform to gift prospects, customers, partners, and more recently – folks in need. We call it the Alyce for Alyce program, A4A.
As Marketing Operations Coordinator, I oversee the execution of the A4A program and help to ensure its success. We use this program to test, learn and prospect. Through multiple iterations we've created and implemented best practices for ourselves and our customers. I guess you could say the team and I are the power users of the product.
And up until a few weeks ago, we were using Alyce for five core purposes:
Choosing a physical gift invitation type to send to prospects
Setting up custom landing pages where prospects go to view and accept the gift sent to them by the team based on our AI research.
Offering the Power of Choice™ in which prospects can accept, exchange, or donate the dollar value of the gift to a charity close to their heart.
Establishing required actions like booking meetings, asking questions, or capturing more information about the person in order to accept the gift.
And finally, validating what shipping address they'd like their gift to be sent to.
Until now, we've relied heavily on the use of physical invitations, whether that be a cedar box or a greeting card, to create truly 1-to-1 relationships with our prospects. But, like every marketing team out there, we've had to pivot our strategies – and quickly – to address the fact that folks were working from home.
And we realized that it isn't the physical invitations but the personal approach we take that's our secret sauce. Our platform enables our awesome sales reps to get closer to their prospects and create personal bonds by appealing to the 5-to-9 person behind the 9-to-5 persona.
The marketplace of 35,000 gifts allows them to offer something relevant to the times we were in (home office decor or a donation to a relief fund) and the empathetic and thoughtful nature of our outreach shows respect for the prospect's time and attention. So, in that sense, our goals didn't need to change, just the channel we use to get there.
Because we've pivoted to digitized gifting, we figured it might be helpful for you and your team to learn how and what we did to ensure we're still creating as many opportunities as possible with your gifting strategy. We all know that the digital channel is saturated and becoming more so, but it's not the channel's fault. It's the way in which it's currently used – spraying and praying, blasting generic impersonal and self-serving outreach.
Since our prospects, like yours, are all coping with unique and unprecedented conditions we've had to become even more mindful of who we're sending gifts to, what gifts we are sending, and why we are sending them.
Here are some of the best practices we've learned through our A4A program gifting strategy over the last few weeks that you can employ to create tighter, personal bonds with your customers and future customers.
To make it easier for you, we've broken this down by department and use case:
Sales
With the Alyce <> Outreach integration, your sales team can make sure that they're sending personal outreach and well-timed, thoughtful follow up at scale.
Want to power up? Leverage an intent tool like 6Sense to know when the best time to reach out to a prospect is, and then get in front of them with a personal gift at the right time!
Let's go one step further and add video. Adding a personal video in their sales outreach and including that with your digital gifting strategy can help foster the kind of personal touch that breaks through the noise.
Marketing
Be honest, how many more webinars and virtual summits did you add to the calendar for the upcoming quarter?
With everyone turning to digital channels it's important to engage and activate your registrants with pre and post event gifts to get their attention before the event and create advocacy post-event.
Since webinar registrants have already interacted with you they're more likely to open the emails you send them, especially if you follow up immediately after the virtual event!
Customer Success
What better way to create and foster a sense of trust and community with your valued customers then reaching out, with no ask, and offering up a personal gift – bonus points if you send along a donation to pay it forward during these trying times.
Our customer success team leveraged Alyce to thank our customers for staying with us and to offer any help they could, and saw amazing responses from customers who were always active, as well as an uptick in activity from customers who had previously been less responsive.
Need some gift ideas?
First thing's first – try not to send everyone the same gift. That's not how you foster and create personal experiences. It takes a little bit more time to do, if you're not using a platform that allows you to find the perfect gift based off the person's personal interests, but it makes a huge difference.
If you are using a solution that can research your gift recipients, take the time to leverage that research, even if you don't use it to choose the gift. That research can help inform your message copy and help bring you closer to the person on the receiving end of your gifting efforts.
Even if you're not using a solution that allows you to create those 1:1 personal relationships at scale, you can still get personal in your gifting.
Amazon is getting more and more backed up, and you can only be so personal with a GrubHub gift card; those ideas got tired pretty quickly.
We pivoted to focus more heavily on our founding philosophy: Give first, give consistently.
We've curated a collection of gifts in the Alyce marketplace tailored to those working from home, supporting charities that are helping with COVID-19 relief, and patronizing local businesses that may be taking a hit.
It's always been important to foster a sense of trust and build personal relationships with prospects and customers. Don't let a screen stand in the way of that now!
Still craving more ways to turn these formerly physical experiences into digital ones? If you haven't seen our Phygital ( Physical + Digital = Phygital ) webinar series, check out our most recent episode all about building trust and community.