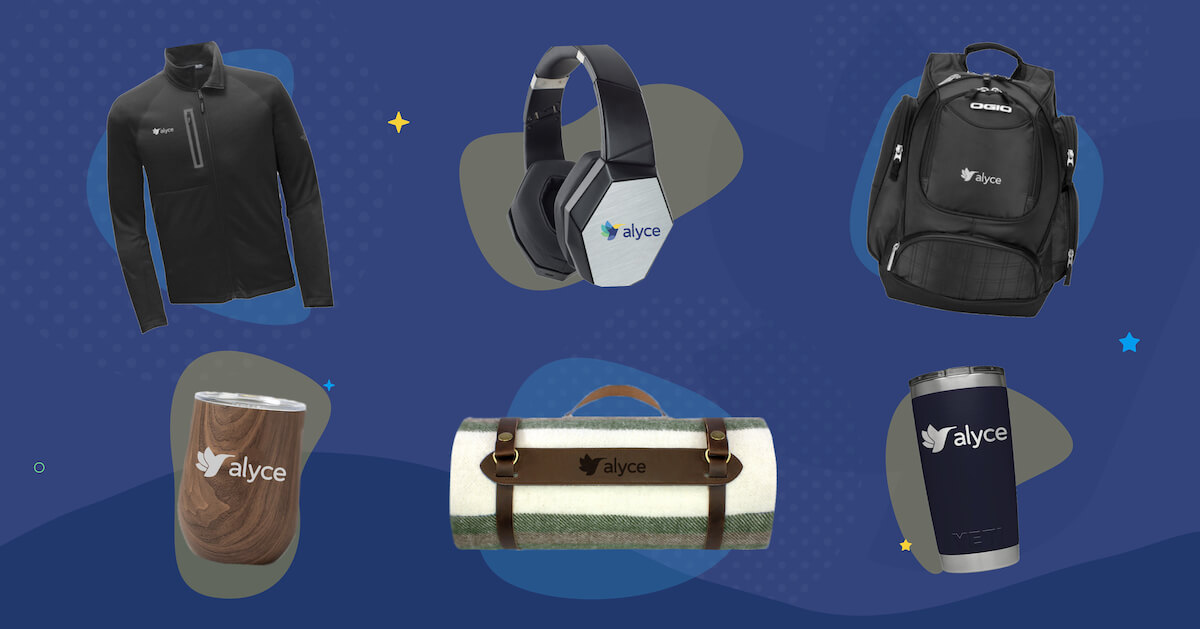 Not every promotional product makes for great swag. So what can you do to make your corporate gift a welcome surprise?
Swag not only increases brand awareness but also boosts employee engagement. Company swag ideas include branded water bottles, keychains, mousepads, and of course, T-shirts.
Unfortunately, many senders don't put enough effort into the gifting experience. Chasing a rock-bottom unit cost results in a swag bag focused on the company's interests and not the recipient's.
This guide will save you thousands by helping you send great swag items at the right time, so it never goes to waste.
Branded Swag Basics
For starters, branded swag is any promotional product that features the company logo or name. Swag is produced in limited quantities since it's intended for a narrow audience. Unlike typical corporate gifts, these branded items increase brand awareness, employee appreciation, and corporate event engagement.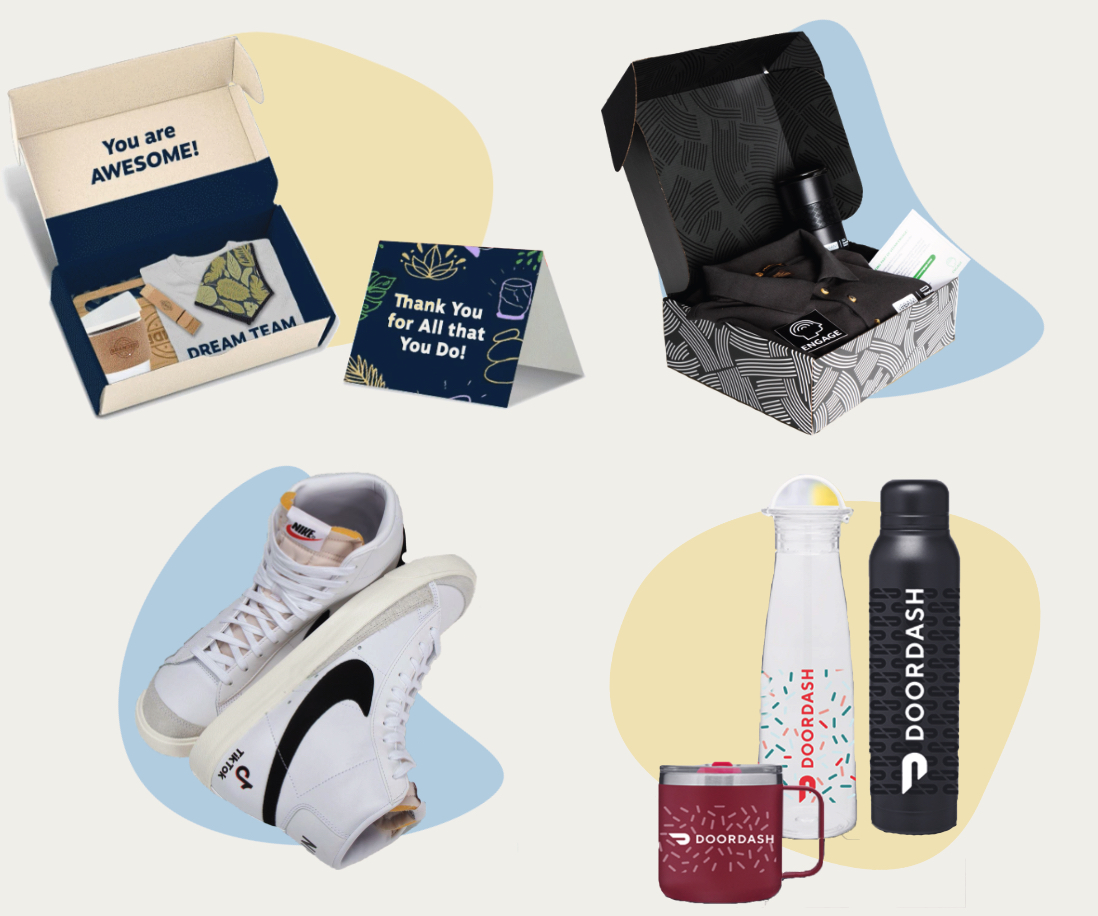 Custom swag has the advantage of associating premium promotional items with your company name. For instance, would a dirt-cheap T-shirt or an officially licensed Nike golf shirt better represent your brand?
Branded swag works best on people with a higher affinity for your brand. That means new customers, employees, and partners. Most want to sport the best company swag on Zoom calls, tradeshows, and LinkedIn.
Investing in high-quality swag builds awareness and respect for your outreach. People are tired of cheap pens and have more than enough hand sanitizer to last a year or two.
Ways to distribute branded swag:
Corporate events: Build excitement for an upcoming business conference or tradeshow. These branded products amplify the attendee experience for those attending in-person and remotely.
On-demand: Send branded swag on-demand to anyone following a milestone or before a team-building event. When customers leave a glowing review, send some branded goodies.
Company swag store: Provide an e-commerce-like experience where new hires, partners, and VIPs can choose branded swag items. A virtual swag store is an easy way to offer high-quality promotional products at your next business conference or tradeshow — without the bulk!
With no further ado, here are more than two dozen ideas for what you should use for company-branded swag. Continue reading for the best opportunities to send branded swag.
Top Branded Swag Examples
Company swag is an investment, not just an expense. Below, we'll outline top-notch swag ideas you can use as branded promotional products bearing your company name, colors, and logo.
Item
Photo

Water bottles

Everyone likes a little something to stay hydrated. Regularly drinking a healthy drink like water increases productivity. Plus, a water bottle is something people carry pretty much everywhere they go. Look for responsibly sourced bottles — such as those that give back to those in need.

Hoodies

Hoodies are excellent casual winter wear. Branded swag hoodies will induce feelings of comfort and warmth on the coldest of days. Likewise, these go well when layering them up with a branded shirt.

T-shirts

It's cool to wear a branded swag t-shirt over the weekend. Comfort, fit, and aesthetics are all equally important. Lean on trusted manufacturers to produce high-quality shirts that people are thrilled to wear.


Drinkware

People can always do with extra drinkware. Giving a matching set of branded glasses will generate more brand awareness whenever they are put to use. Smashed a company milestone? Celebrate in style with commemorative drinkware.

Stainless steel tumblers

Stainless steel tumblers are fantastic because they are durable, easy to clean, and are popular among B2B gift recipients. These also include vacuum-sealed insulation that keeps drinks hotter or colder for long periods.


Fuzzy slippers

Keep your team's feet toasty in the chilly months ahead with a pair of branded fuzzy slippers. These are hit for kids of all ages, especially if you work from home. Work comfortably without the guilt with these corporate branded slippers. These also make great gifts for loved ones too.

Quarter-zip sweatshirts

Everybody loves a cozy sweatshirt. Make sure you get the sizes right, plus it helps to know a color preference when giving branded sweatshirts as corporate gifts. With a trusted branded swag vendor like Alyce, your logo won't erode after a few washes.

Eco-friendly bags

The benefit of using branded eco-friendly bags is that your company is recognized for being mindful of our planet. However, one of the ills of company swag is that it can be wasteful; eco-friendly gift bags allow people to reuse or recycle it over and over.

High-quality power bank chargers

We all carry our phones and tablets with us wherever we go. And everyone who has experienced a dead battery knows how frustrating it is. So the best gifts are ones that people can use, such as a power bank. These proven Anker chargers are a decent business gift to send those traveling.

Bluetooth speakers

Bluetooth speakers are the most versatile speaker you can get. Branded speakers are a grand idea. It's a good thing to be associated with music because it decreases stress and increases positive feelings, among other things.

Mousepads

Many people spend a large amount of their day at their computers. Gaming-grade mousepads are an excellent gift choice because your brand will be constantly visible to the recipient, boosting brand awareness. It'll also improve their experience with precise mouse movements.

Keychains

Keychains are always a good choice because everyone has keys, so you know it's useful. While simple in form, the functionality improves brand recall because it's something visible to most other people throughout the day.

High-quality tote bags

Fantastic branded corporate gift choices are also seen in public places like grocery stores or gyms. Avoid ultra-cheap tote bags and choose one made from eco-friendly recycled materials that are durable and convenient.

Reusable straws

A personalized reusable straw is something convenient for any occasion. What makes straws reusable? Stainless steel, easy to clean, and even a carrying case featuring your company name make these an optimal branded swag idea.

Tradeshow stickers

Immortalize your tradeshow in the form of bespoke stickers chronicling the company event. Designing a sticker with your brand in the corner is an excellent way to be visible. In addition, a trade show sticker is a nice little extra to put in an employee swag box or encourage employees to add to their laptops.

Welcome letter

Nothing delights a new employee or customer than a sincere welcome letter to make them feel valued. This simple touch creates excitement during the onboarding phase, which makes it attractive to share on social media. Ideally, include a welcome letter as the centerpiece of your branded swag.

Self-care wellness kit

Encouraging employees and partners to focus on themselves pays dividends later. Self-care gifts reward recipients for their hard work while reflecting a healthy company culture. Aromatherapy, candles, and a delivered meal (perhaps by GrubHub) are good swag ideas to include in your wellness kit. Unless you know someone practices yoga, save the yoga mats for another wellness campaign.

Wireless earbuds

Many staff members like to listen to music while working. Music is known to increase productivity, lower stress, and send creativity soaring. This is one corporate swag item to invest in; low-quality earbuds are junk, and you don't want this experience for recipients.

Drink coasters

Drink coasters and branded glassware would be a perfect gift set for someone. Another thing that comes out for visitors and friends is creating more brand awareness. These are ideal for online team-building events and business conferences where attendees have a cold beverage nearby.

Branded beanies

Nobody likes cold ears. Branded beanies are great to wear in frigid weather, and you make it possible for team members to stay warm while still being on-brand. Consider this promotional product for those fall business conferences.


Backpacks

A backpack or commuter bag is one of the best company swag ideas for people on the move. It's used daily, so it serves as a regular reminder of your company to the recipient and exudes a sense of credibility and authority. A top-notch backpack is a must for those who visit clients, such as resellers and employees.


Wireless chargers (MagSafe/Qi)

Those with newer smartphones (virtually everyone) enjoy the convenience of a wireless charger. This is ideal for a work from home gift to keep their phones topped off the hassles of cords. Of course, it's best if the recipient picks the charger for their device: Apple or Android.

Reusable notebook

A premium-grade pen and paper set helps recipients focus on the day's tasks, quick ideas, and sketches. It's usually one of the first things professionals use each morning. Go beyond notetaking with a set that can be re-used and sync notes in the cloud.


Succulent plants

A succulent is effortless to maintain and looks good. They need almost no care and remind the recipient of the beauty of the outdoors, which can improve their workspace. It's ideal swag to send to new employees and customers who complete onboarding.

Branded sunglasses

This is a lovely gift idea, especially as you head into the summer. These shades will help your team members flaunt your brand and do it in style with your company logo and colors. Also, these swag items are affordable enough to send another pair when they get lost or break.
Best Occasions For Branded Swag
Timing is everything! Taking your branded swag to the next level means never missing a significant opportunity. Below are a few times that branded swag kits are a must.
1) Post-Event Follow-up & Giveaways
Branded swag kits are a must for virtual and in-person events. Follow up after your event to stay top of mind among attendees and prospects. It's also a prime spot to thank sponsors and speakers.
Gather immediate feedback and giveaway a mystery gift to those who complete their survey.
2) Customer Onboarding
Build the relationship from the moment your prospect converts into a customer. This "honeymoon" period is the perfect time to show customer appreciation. Include a sincere note alongside high-quality products, and tie them into your company's themed products and services.
A decent onboarding custom swag gift set makes it easier for your fans to rave about your brand to their friends and colleagues.
3) Brand Awareness & Influencers
The great thing about social media influencers is that their brand endorsement and online marketing plan can hugely influence brand awareness. Influencers get dozens of gifts from people with products to sell, so you want them to sit up and take notice of yours.
When you send gifts to an influencer, be sure to:
Keep it personal. Establish a personal connection that stands out beyond the free products. Drawing from shared interest and #5to9 helps you soar above dozens of other pitches.
Front-load exclusive intel. Arm them with key stats and facts the influencer can convey to their attentive audience. These exclusive insights connect the dots from your brand to their audience.
Build a relationship. Smaller engagements can expand into more prolific brand awareness campaigns later. Patience and goodwill go a long way here.
Make your outreach count with an exciting with a themed swag box containing goodies they genuinely would appreciate.
4) Upcoming Corporate Events
Branded swag is a powerful way to extend the impact of your company's events. With many B2B companies hosting Sales Kickoffs (SKOs), it's ideal to make it easy to motivate your sales team around internal (and external) growth campaigns. Branded swag can help enroll others into it so it endures well beyond a slide deck.
Event swag bags are a wise investment to hand out to participants and organizers. Here are a few audiences that would enjoy your great swag:
Attendees: For in-person and virtual attendees, say thanks with exclusive promotional items that get them excited before and after your big corporate event.
Sponsors: Sponsors will remember the event's impact and the VIP treatment for years to come. You can even monetize gift boxes that you send attendees with branded promos.
Partners: Say thanks by sending a rare gift set containing goodies along with a thoughtful note to make it clear you know they made a big difference.
There remains an ample opportunity to share corporate gifts each person will deeply enjoy. The strategy here is to use it to strengthen the connection to the brand — not cheapen it. Branded swag might be a great gift idea, depending on how invested each recipient is with your company.
One gifting platform for every campaign.
Hop on a demo→
5) Employee Appreciation
It's imperative to offer team members the power of choice regarding branded gifts. Why?
The reality is that not all employees want promotional products with your company logo. Instead, there's a greater desire for eco-friendly gifts, including those that donate to charities.
Nevertheless, there's undoubtedly a swell of demand for custom swag that your most engaged employees can wear and use daily.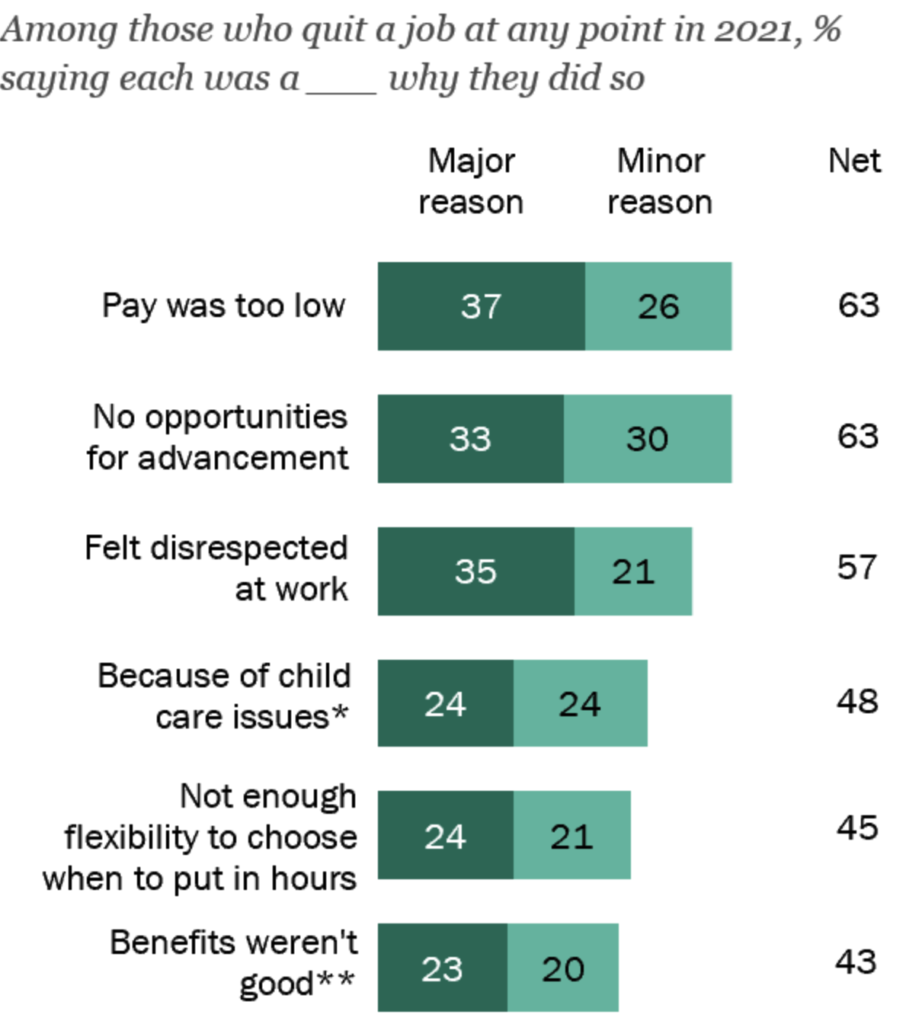 Remote employees, in particular, are a segment of workers that would more than likely enjoy a tangible gadget bearing the company logo. Whether it's a wireless charger, mousepad, or a branded hoodie, you're sure to help them feel even more connected.
Equip field marketers and salespeople with select company-branded T-shirts, beanies, and commuter bags for client visits. These build more credibility and authority in each interaction.
Another great gift opportunity is when the company hits or exceeds its goals. Commemorate these milestones with a signature succulent, team-building keychain, and a reusable water bottle. Then, encourage team members to share their newfound swag on social media for more brand awareness benefits.
The Future of Marketing Swag
Behind the top branded swag items is the intent and value to the recipient.
Corporate gifting has become an essential growth tactic in 2022 and continues in 2023. However, gifts alone aren't as effective as how they are used and for whom.
Branded swag is rarely an appropriate holiday gift. Instead, deploy it thoughtfully in a relevant way for those most closely connected to the brand.
Solving the myriad of swag logistics (like sourcing, licensing, shipping, accounting, and tracking) doesn't have to be guesswork. Chat with a gifting expert to see how we can take your branded swag to the next level.
Plus, we integrate with popular CRM, marketing automation, and sales engagement tools, so there is no duplication or wasted resources.
Company swag doesn't have to be complicated. Here are a few answers to commonly asked questions.